Spring 2023 Newsletter
Greetings
Greetings, colleagues and friends, and happy and healthy Spring 2023! Our Union continues to win progress for members and respect both from administrators at Emerson and our fellow 888 members throughout the Boston region. In this newsletter, please find a brief overview of our victories, our newest members, our new leadership team, and information about the opportunity to serve our chapter as a steward. As always, we are with you, and you make us a far better "us." With gratitude, and in solidarity,
Dan Crocker, Vice-Chair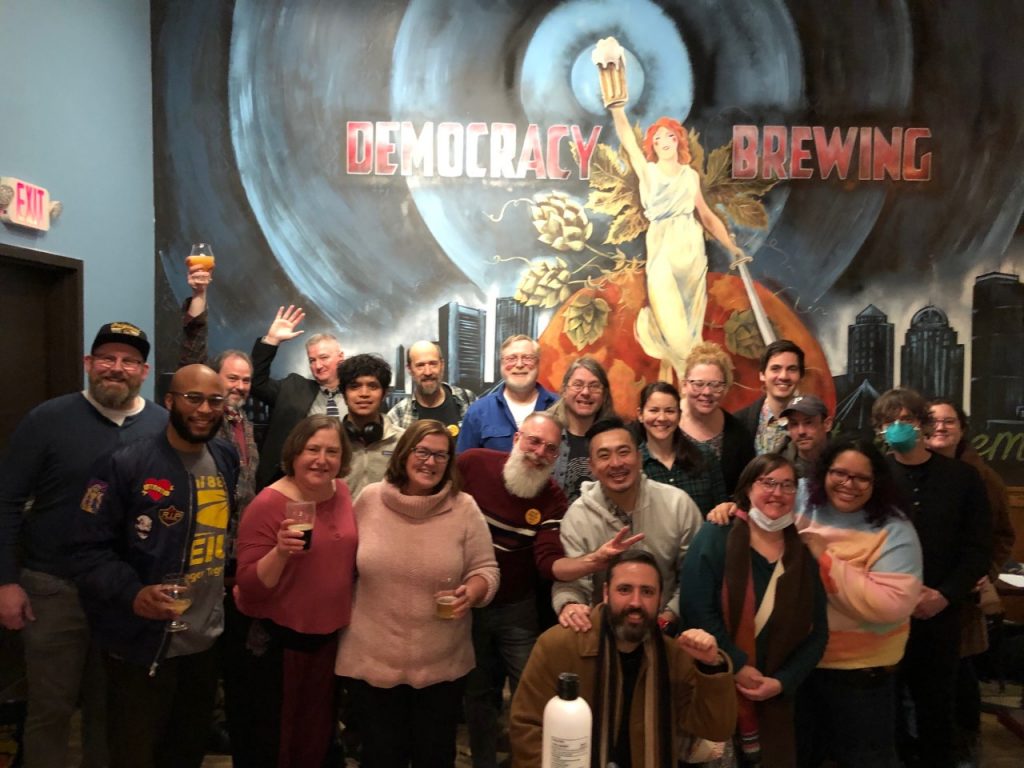 Let's Check Your Math…
When one of our members began the process of financing a home purchase, she realized something was amiss—her earnings were not in keeping with the projected earnings the Union had supplied in advance of ratifying our contract. She contacted HR and the Union, and the Union quickly found many more members who were affected.
A group of more than 60 who were eligible for a market adjustment based on the CBIZ analysis from the winter of 2021 (in other words, they were being underpaid) had been promised some steps of adjustment in their contract. But this member ran through the numbers and realized HR had calculated the adjustment differently than was spelled out by the contract.
More than a dozen fellow members raised this issue with HR and the Union. We met with HR, showed the math they did, and showed the math by the terms of the contract. We then went through the list of affected members and secured a readjustment for each of them. This resulted in additional annualized increases between approximately $600 and $12,000 for our members.
Welcome, New Members!
Sami Ahmad, Multimedia Producer, Marketing

Darnell Bartee, MacOS Endpoint Administrator, IT

Katherine Bergeron, Administrative Associate to the Chair, Visual and Media Arts

Aliyah Browne, Assistant Director, Mobile Engagement, Digital Strategy

Fernando Buenrostro, Desktop Support Specialist, IT

Courtney Couture, Designer, Marketing

Micah Gharavi, Assistant Registrar, Communication & Reporting, Registrar

Katie Ingegneri, Senior Marketing Writer, Marketing

Stephen Jackson, Film Post-Production Manager, MTP

Ryan Krodel, Assistant Registrar, Transfer Credit, Registrar

Maura MacDonald, Traffic Coordinator/Administrative Assistant, WERS

Eddie Maisonet, Digital Services Coordinator, Digital Strategy

Sarah Matsushima, Coordinator, Registrar Services, Registrar

Rebecca Meyer, Instructional Technologist, Instructional Technology Group

Keith Newell, Integration Analyst, IT

Alexandra Parker, Social Media Content Specialist, Marketing

Taylor Riley, Evening Operations Supervisor, EDC, MTP

Mark Wellemeyer, Project Manager, IT
Meet the New Officers
With the ratification of our new contract, we voted for new chapter officers. Our chair, vice-chair, and recording secretary served as officers last year in an interim capacity; our treasurer and chief steward are new officers.

Please meet:
Chris Chan (he/him)
Union Treasurer
Desktop Support Specialist, IT
In Chris's role with IT User Services, he likes to help people with their technical and non-technical issues. In his spare time, he enjoys games, Wikipedia, learning, and exploring Boston. Chris holds a BA from La Salle University.
Hannah McEachern (she/her)
Union Chief Steward
Administrative Assistant for Comedic Arts and Business of Creative Enterprises (BCE)
In her role with Comedic Arts and BCE, Hannah is passionate about community engagement and student mentorship, and loves collaborating with her colleagues on small projects and events. As a theater professional, she is eager to develop new comedic plays. In her downtime, Hannah enjoys reading, journaling, meditation, tarot, and binging the same six TV shows on rotation.
Hannah holds a BFA from Emerson ('19) and an MFA in Theater Directing from Edinburgh Napier University ('21).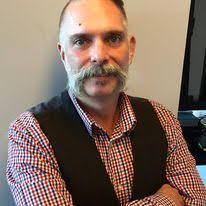 John-Albert Moseley (he/him)
Union Chair
Program Coordinator, Visual and Media Arts
John-Albert (aka J-A) originated the initial union organizing drive and helped negotiate the first and most recent contracts. He also served as vice-chair prior to becoming chair and has been a part of the Joint Labor Management committee.
As program coordinator in VMA, he supports the department's academic tasks. In July, he celebrates 10 years at Emerson! Outside of work, he is an active church musician and has performed professionally with regional opera companies and professional choral ensembles. He lives in Providence with his husband and their amazing Samoyed dog, Jubilee. J-A has a BA in Music Education from Southern CT State University and an MAR from Yale University.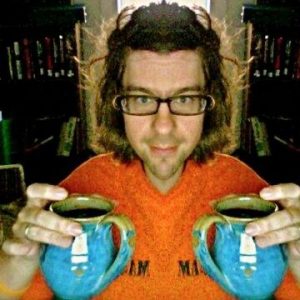 Dan Crocker (he/him)
Union Vice-Chair
Coordinator of Electronic Resources, Iwasaki Library
Dan has been at Emerson since 2008. Here's his official Workday bio. In addition to working in the library and working for the Union, he currently lives in Jamaica Plain, where he and his wife are raising a very charming and energetic five-year-old. His karaoke standard is to sing Debbie Gibson's "Lost in Your Eyes" in the style of Tom Waits.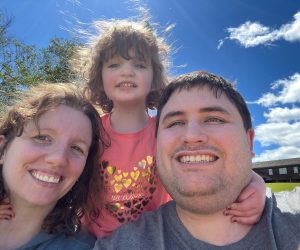 Eric Matthews (he/him)
Union Recording Secretary
Web and Information Coordinator, Lots of Places
Eric's roles vary from being the College's part-time IRB Administrator, working with faculty committees, managing the entire College's virtual workroom for the NECHE 2022 Reaccreditation, and other various tasks that require zero campus presence. He is continuing a tradition of reviewing everything for accuracy and not putting up with College excuses, started by his father in his role at the College in the early '90s.
Whenever possible, Eric escapes to Stowe, Vermont, and can be found fishing at the Trapp Family Lodge with his wife, Shannon, and daughter, Alyson. He holds a double BA in History and German Studies from Assumption College ('08) (now University) and an MBA from Endicott College ('13).
Get Involved! Become a Chapter Steward
With our new CBA in place, we are looking forward to establishing chapter stewards. We hope to have stewards located in each building around the College, as well as stewards who are fully remote. Please see below for more information about what is expected of people that take on this role:
What Does a Chapter Steward Do?
Chapter stewards act as communicators with Union members, a representative for members with management, and as organizers and leaders with the members. Chapter stewards would coordinate with our chief steward and other chapter officers to:
Educate our members about their rights, especially their Weingarten Right and when they have the right to representation (if they desire it);

Represent members and document proceedings at investigatory and other meetings with management;

File and process grievances in conjunction with the chapter leadership and the Union rep;

Mediate and resolve issues between members.
If you are interested in becoming a chapter steward, or talking with our chief steward, Hannah McEachern, more about the role, please fill out the Chapter Steward Sign-Up Form.
We hope you consider becoming a steward to assist the Union in rapidly providing response, support, and greater victories ahead. If you have any questions, please email hannah_mceachern@emerson.edu.
<class="p1″>
A Thank You to Our Departing Officers
As we welcome our new officers, it is also time to say thank you to two cornerstones of the Emerson Staff Union: former Chapter Chair Dennis Levine and former Chief Steward Isobel Rounovski.
We would like to extend our heartfelt thanks to Dennis for his exceptional work as chair. His leadership in the 2022 CBA negotiations resulted in our current contract, which continues to significantly benefit all members of our Union. He has always been an unwavering advocate for our members, standing up for our rights and ensuring that our voices are heard.
Dennis consistently made himself available to  members, providing valuable guidance and support whenever it was needed. His extensive knowledge of our contract and how to apply it has been invaluable in protecting members' rights. We are truly grateful for his contributions and dedication to our Union.
We would also like to express our sincere gratitude to Isobel for her remarkable work as chief steward. Isobel was the first point of contact for many  members, welcoming them to the unit and explaining the benefits and support they can expect from the Union. Her tireless efforts during the 2022 CBA negotiations were critical, particularly regarding the financial aspects of the contract, and working to make sure we all understood it at the table.
Isobel's quick thinking and ability to run numbers on the fly played a significant role in the gains we achieved at the bargaining table. As with Dennis, Isobel has always been available to members, providing them with valuable advice and support whenever they needed it. We are extremely grateful for Isobel's contributions to our Union and for her unwavering dedication to our members.
While this all may sound like a good-bye, it is far from it! We're happy that both Dennis and Isobel are still active members of the Union, with Dennis providing his knowledge and guidance to the current officers, and Isobel serving as the Union's representative on the College's Retirement Committee.
We are eternally grateful, Dennis and Isobel! We hope to make you proud!
Follow Us on Social
Twitter: @EmersonStaffUnion
Instagram: @EmersonStaffUnion
Facebook: @EmersonStaffUnion