Greetings
As the leaves begin to change and a new season approaches, we are thrilled to extend a warm welcome back to another academic year to each and every one of you. Change is certainly in the air with the new President, Jay Bernhardt, arriving on campus. The upcoming fall semester and arrival of new leadership presents fresh opportunities for growth, learning, and collaboration within our community.
To further our collaboration and learning from one another, and to ensure that we stay connected and informed, we encourage all members to make the most of our union's Slack channel—a hub where we can share updates, events, and valuable insights.
Also remember that your union stewards and leadership are here to support you every step of the way. Whether you have ideas to contribute, questions, concerns, or points of information, don't hesitate to reach out. Together, we can make this semester a successful and empowering experience for everyone!
In solidarity, Your Union Officers, John-Albert, Daniel, Eric, Hannah, Chris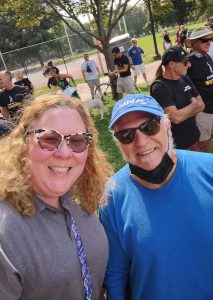 Welcome, New Members!
Elizabeth Apple, Marketing Coordinator, Iwasaki Library
Adan Breheny, Web Developer, Digital Strategy
Jun Chen, Senior Software Applications Developer, IT
Owen Conti, Assistant Manager, Production Facilities, Media Technologies and Production
Rebekah Dale, Associate Director, Education Abroad & Domestic Programs, Internationalization and Equity
Kimberly Domerçant, Desktop Support Specialist, IT
Rosita Huang, Grants Coordinator, Post-Award, Office of Research and Creative Scholarship
Kyle Johnson, Assistant Director, Academic Advising
Melanie Kahn, Production Coordinator, Visual and Media Arts
Yishu Li, International Student Advisor, International Student Affairs
Barry Littlefield, Cinematographer & Manager, Production Facilities
Andrew Palmacci, Assistant Director, Global Programs & Student Advising, Internationalization and Equity
Andrea Pino, Programs Operations Administrator, Communication Sciences and Disorders
Hannah Rogers, Administrative Assistant, School of the Arts
Pavel Zlatin, Executive Assistant, Internationalization & Global Engagement, Internationalization and Equity
Committee Updates
Joint Labor Management (JLM)
Our contract calls for a Joint Labor Management (JLM) Committee, made up of five union members and five members of management. The committee is tasked with discussing and problem-solving systemic issues that concern staff. It is not a substitute for individual grievances or for more formal contract negotiations, but it allows us to continue our dialogue with management between contracts.
We held our first meeting on July 19, in which Barbara Owens from the Federal Mediation Service (the same mediator who helped us settle our contract) gave a training session on what makes a successful JLM committee. Committee members shared their ideas and expectations for the committee, and we came up with some points for ground rules. We will meet again on September 27 to begin our work. Union members are welcome to email emersonorganizing@gmail.com with any items they believe to be systemic issues to be brought to the committee's attention. You can also contact the officers at that email for support with individual issues and/or grievances.
Staffing
As part of the last union contract, it was agreed upon that a staffing committee would be formed in an effort to understand the concerns that staff have with respect to workload and workflow. The newly formed Staffing Committee consists of five members of the union and five members of the Human Resources and management staff.
Each month since February, the committee has met to determine which methods and measurements to utilize to gather information about staffing issues. Prior to our meeting with the management members, union committee members met separately. In those meetings, we discussed what we thought was most important for our members and how best to assert our agenda. We decided to create a survey and wrote questions that we felt would help us understand what types of issues staff were dealing with. When we met with our management colleagues, we came armed with the survey.
After some months of back and forth about the exact verbiage for the survey questions, we sent it out to members in June. We are just now beginning to interview groups to discuss the survey results. One member of the union and one member of management will pair up and meet with teams to delve into the survey findings. After we interview all the groups, the committee will produce a written report that we hope to share with you, as well as Human Resources and our new College president. We hope that you make your voice heard by completing the survey and attending the group interviews.
Steward Training Update
Back on July 13, we put out the call for great leaders and communicators who want to help strengthen our union community. This team of people are called stewards and are essential to the inner workings of a strong bargaining unit.
Our stewards will be the first line of communication for small groups within our unit for getting important information out, and taking in union member questions/ concerns. They will stay in consistent contact with the Chief Steward via private Slack channel, and will also be expected to attend a monthly training with our officers and field rep, Joe Montagna. Training will be held during one of the usually scheduled union lunch meetings. Our first training will be held on September 14 at 12:00 pm.
If you are interested in becoming a steward and joining our team of passionate and hardworking individuals, reach out to our Chief Steward, Hannah McEachern (hannah_mceachern@emerson.edu), before September 1. We're so excited to work with this team as we continue building our union stronger together.
Seeking Input for Equity Webpage
Is this the first time you're hearing that the union has our own website (emersonstaffunion.org)?
During the George Floyd protests, we created a webpage offering support for anti-racism work. This page is in dire need of an update. We would like to update it, but also expand it, to support other kinds of equity issues.
We are looking for input from members who have direct experience, not only with racism, but also ethnic, queer, disability, misogyny, religious, and other equity issues to create content for a new page/pages. If you are interested in contributing, please email emersonorganizing@gmail.com.
We want to hear from you!
New Member Profiles
Owen Conti, Assistant Manager, Production Facilities, Media Technologies and Production
What are your favorite summer activities?
I love a great beach day and tossing a frisbee with friends.
Where did you work prior to Emerson?
Prior to joining Emerson, I did freelance photography and video production.
What's meaningful to you about being back at Emerson, as an alum?
Being back at Emerson as an alum is meaningful to me because of how much Emerson shaped me as a person. I love the Emerson community deeply, and I'm so happy to be helping students learn, grow, and achieve their goals. Have you been a union member before? I have never been a union member before.
Why are you glad that you're in a union?
I'm glad to be in a union because I will experience better wages, benefits, and job safety compared to if I were not in a union! I know that the union will always have my back and keep my best interests in mind!
Kimberly Domerçant, IT Support Specialist, IT Help Desk
What are your favorite summer activities?
To name a few: watching the WNBA games (Go Connecticut Sun!), NBA Summer League, museums, concerts, and lounging on the beach (as long as it's not too hot).
Where did you work prior to Emerson?
Boston Public Schools
Have you been a union member before?
Yes, BPS is proudly teacher union strong!
Why are you glad that you're in a union?
Unions are vital because they do the hard work of ensuring wage and working condition equity for laborers. They make sure to hear our concerns, amplify our voices, and emphasize essential change.
Call for Creative Work
We know that many of our members actively pursue creative endeavors. If you'd like to share your work for consideration in the newsletter, send it to emersonorganizing@gmail.com. We can publish short poems, photography, and artwork.
Follow Us on Social
Instagram: @EmersonStaffUnion
Facebook: @EmersonStaffUnion
Threads: @EmersonStaffUnion